I'm sharing my summer skincare & makeup staples for the warmer months ahead!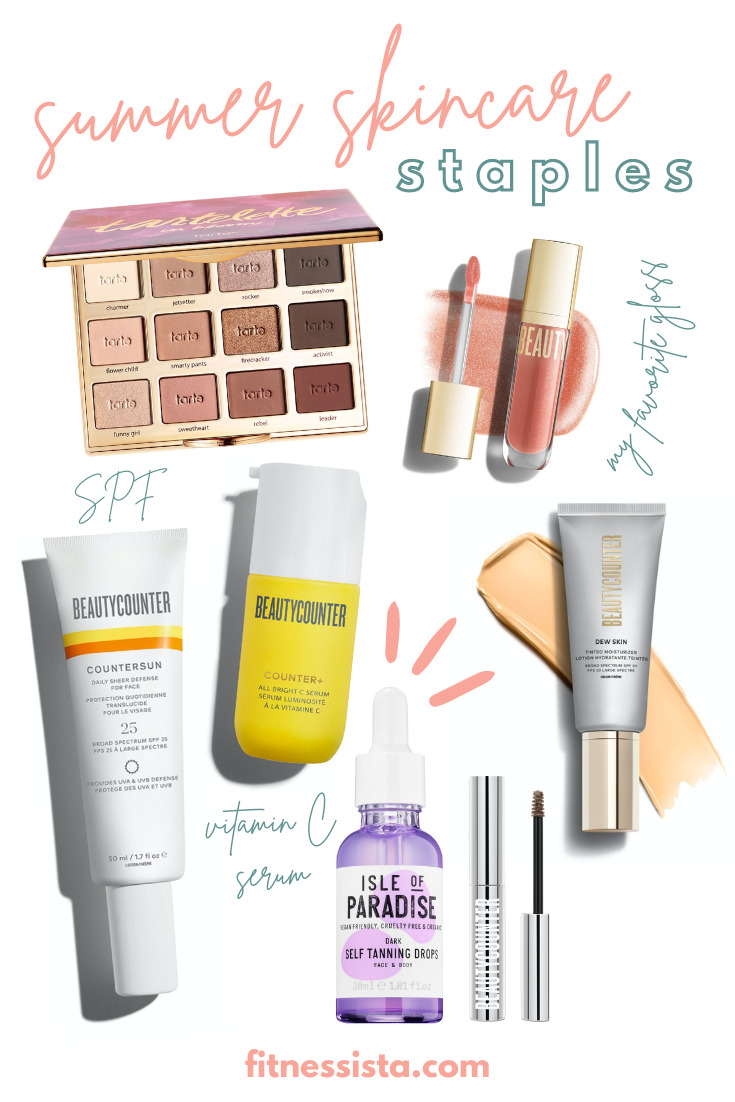 Hi friends! I hope you're enjoying the week so far and hope that you had a lovely 4th.
Now that we're in the thick of the dog days of summer (it's hot out there!), I want to share how my beauty routine has changed with the change in temperature. I definitely wear less makeup in the summer months. For one, it's hot out and the last thing I want to do is put a lot on my skin (other than SPF!). It needs to feel light or I'm probably not wearing it all. That said, I still want to look put together when we're out at the pool. While SPF is a priority for me year-round, we wear A LOT of safer sunscreen as a family come summer. After all, limiting sun damage is the #1 anti-aging "secret."
Here are a handful of my skincare and makeup staples that you'll find in my beauty bag this summer.
My Summer Skincare & Makeup Staples
Best face sunscreen (SPF 25) there ever was! It blends seamlessly and layers really well under makeup. It's a zinc-based mineral sunscreen, but doesn't leave any white cast. I can't rave about it enough!
I typically reach for Dew Skin over Skin Twin in the summer. It provides a little bit of sheer coverage while evening out my skin tone. Plus, it has SPF 20 (a must). It's very lightweight and leaves a lovely glow!
This smells like sunshine in a bottle! Beautycounter's vitamin C serum is a must for all skin types to brighten sun spots and any hyperpigmentation. I use this every single morning under my moisturizer.
I wear the brow gel almost every day. I use the medium shade and it helps me feel more put together instantly.
While I typically save my darker, more pigmented lip shades for fall and winter, I'm all about these glosses come spring and summer. They are ultra shiny and never sticky and have a subtle hint of ethically-sourced vanilla.
Tarte makes my favorite eyeshadows and they have so many gorgeous palettes.
I've been using these for a couple of years and I love that they give a natural color – not orange-y at all. You can customize these by the amount of drops you add to your body moisturizer for a darker or lighter tone. I like 6 drops for body lotion and add 4 drops to my facial moisturizer.
I also love Beautycounter's blush, bronzer, and highlighters for that extra color and glow.
You may also enjoy: